What is Karate?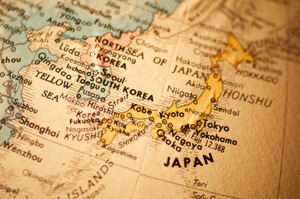 Karate is a form of unarmed self defence that originated in Okinawa Prefecture, Japan. It has evolved over hundreds of years, but it has only been in the last century that it came to exist in its present form.
Karate, while it has its beginnings in Japan, in the years after WWII it has spread quickly across the world. There are many different styles of karate, and even more associations to represent each style. None is any better or more effective than the other in general, but quality of instruction will vary considerably from club to club.
Karate is characterized by the various techniques used in practicing defence. Strong emphasis is placed on proper stance posture and body alignment as well as repetition of various blocking, punching and kicking techniques. Kata are preset patterns of movement that distinguish one style of Karate from another, and sparring can be expected once a certain level of proficiency has been reached. Typically tradional clubs require white uniforms called "Karate Gi". Training is always barefoot unless there is an injury (or in other special circumstances). The language of Karate is Japanese, and typically the movements and technique will be described using Japanese vocabulary. This is something that people outside of Japan simply get used to during their time practicing. Rather than being a barrier, using Japanese universally actually helps people from all over the world to practice together with relative ease.
Traditional Karate Dojo (clubs) adhere to a code of ethical behaviour. This is rooted in teachings passed from one instructor to the next and is based strongly on Japanese culture. A traditional Karate Dojo will require members to follow a Japanese concept called "Reigi" or formal actions. This includes bowing, being respectful to senior and junior members, keeping a serious attitude while in the dojo, etc. This adherance to a set of rules passed on over generations helps all members of the dojo to focus on learning a physical activity that involves a certain level of physical involvement with others as well as to develop the self discipline and self awareness to achieve the physical demands of training in Karate.
For more information about Karate history please click here >>
Information
Dojo Address:
7713 Ranchview Dr NW
Calgary, Alberta, Canada
Annual Registration:
$60.00 (Jan 01 - Dec 31)
Monthly Fees:
2x/Week: $60.00/month (Adults)
1x/Week: $50.00/month (Adults)
2x/Week: $50.00/month (Children)
1x/Week: $40.00/month (Children)
IKGA North American Seminar 2012
Thank you to all the participants, volunteers, Instructors and of course our special guests Saiko Shihan Goshi Yamaguchi and Hideki Wakasugi Shihan! The seminar was a huge success, and once again Saiko Shihan has inspired the members and Instructors of IKGA North America to continue to strive for excellence in Gojukai Karatedo.
We hope that everyone who attended had a fantastic time during your stay in Calgary, and that this will be one of your fondest memories as you continue in Karatedo.
News!
Web Updates
Check here for any new updates to the website
Updates regarding the upcoming IKGA North American Block Seminar:
The IKGA North American Block Seminar 2012 wrapped up on 20 May 2012. thank you to all the participants for helping to make this seminar a huge success!
Updates regarding Calgary Gojukai:
Summer Schedule
Once again we will be taking a break for the summer months. Please continue to check the Calendar for any updates or the possiblity of other training opportunities. See you again in September!
---
New Yudansha (Black Belts)!
Radim Vesely - Shodan
Brent Gross - Shodan-ho
Conrad Wilson - Shodan-ho
Congratulations to our newest Black Belts, and all the best as you move onward in your training! Now the real training starts...
---